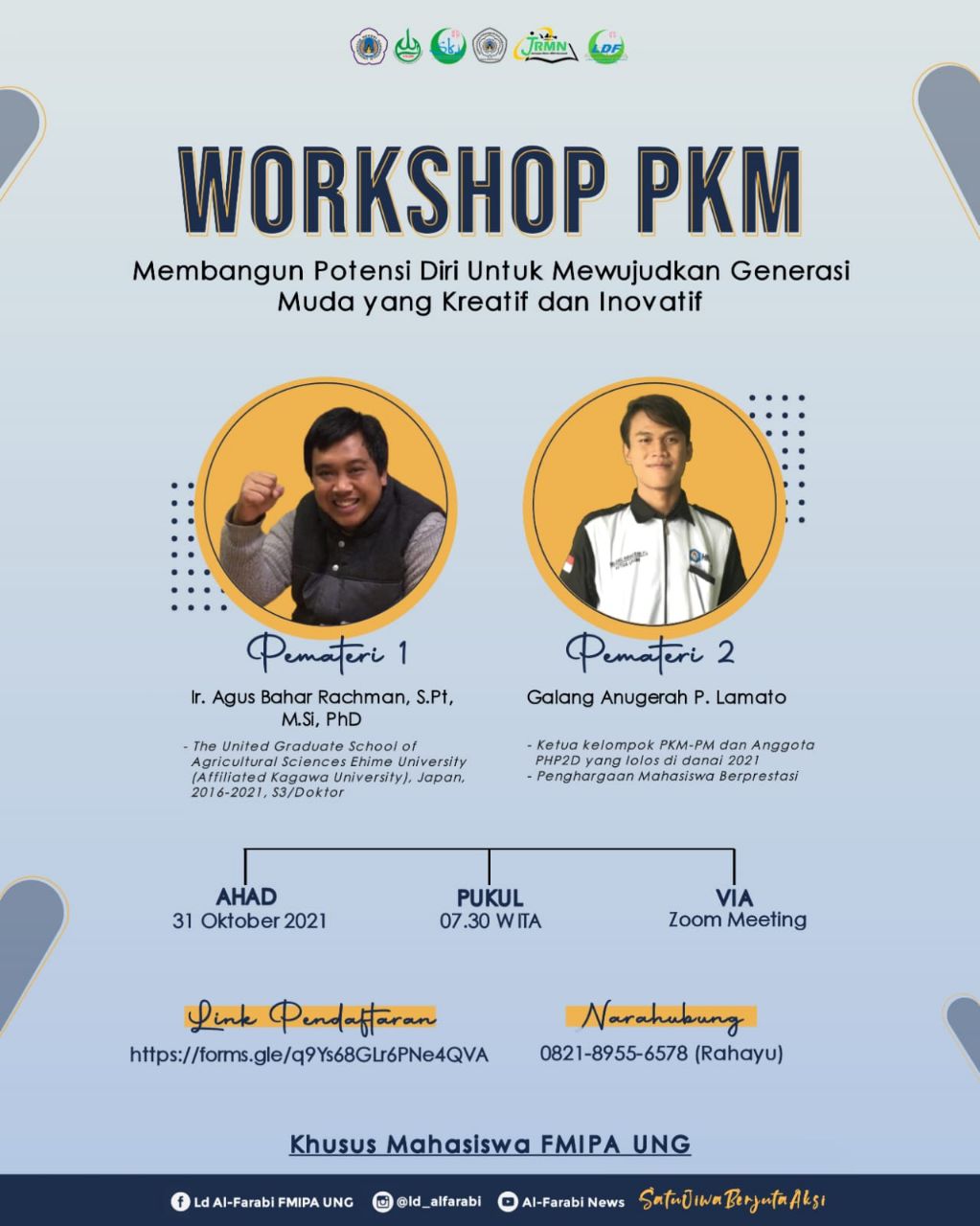 Peace be upon you, and Allah's mercy and blessings.
Hi, What's up, students of the Mathematics and Natural Sciences Faculty? Hopefully, you are always healthy and keep your morale high in doing your activities during this pandemic. Well, we have some exciting information for you who want to know about the procedure for writing a Student Creativity Program (PKM) Proposal. You must be curious about that, right?. So, let us take part in the LD Al-Farabi PKM Workshop with the theme "Building Self Potential to Realize Creative and Innovative Youth."
Speaker 1: Ir. Agus Bahar Rachman, S.Pt, M.Si., Ph.D. (The United Graduate School of Agricultural Science, Ehime University, Affiliated Kagawa University Japan)
Speaker 2: Galang Anugerah P. Lamato (Head of the PKM-PM Group and PHP2D Member who passed the 2021 funding, Outstanding Student Award)
The deadline for registration is Saturday, October 30, 2021
Don't forget to invite your friends too.
Save the date :
Sunday, October 31, 2021, 08.00 WITA - Finish Via Zoom Meeting
Facilities: Certificate, Useful Knowledge, Networks
Contact Person : +62 821-8955-6578 (Sri Rahayu Karim)
Registration Terms: Subscribe to LDF Alfarabi's YouTube Channel
Follow LDF Alfarabi's Instagram Account
Spread this PKM Workshop info to 3 WhatsApp Groups
Send screenshots of proofs on the registration link
FREE, ONLY FOR STUDENTS OF FACULTY OF MATHEMATICS AND NATURAL SCIENCES, UNIVERSITAS NEGERI GORONTALO