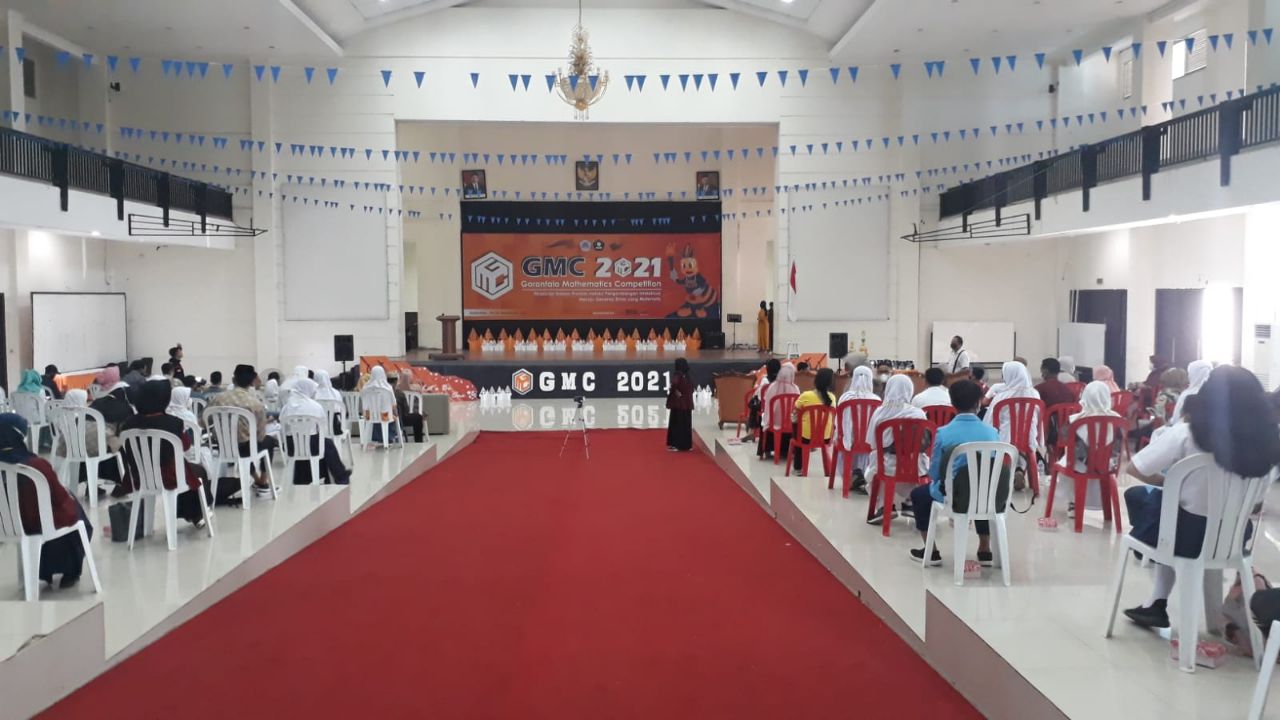 Mathematics Students Association (HIMATIKA) of Universitas Negeri Gorontalo held Gorontalo Mathematics Competition (GMC) for junior and senior high level. Held on Wednesday, November 24th, 2021, Gorontalo Mathematics Competition raises a theme entitled "Exploration of Achievements through Intellectual Development Towards Mathematics Golden Generation."
Since the Covid-19 pandemic declined, GMC triumphantly attracted attention from schools in Gorontalo Province. This can be proven by the number of participants who join this competition. According to the committee organized by GMC, approximately forty-three Junior High schools (SMP) and twenty-one Senior High Schools registered for the competition.
The chairman of Mathematics Students Association (HIMATIKA) in Universitas Negeri Gorontalo, Andi Noho, declared that the implementation of GMC is to capture the best talents of students to score the highest achievement in mathematics.
"This competition aims to foster students' interest in mathematics. Moreover, Gorontalo Mathematics Competition (GMC) is done to look for students with strong potential in math, " said the 5th-semester student of Mathematics Study Program.
Furthermore, Andi revealed that this annual competition would be held in several rounds, including preliminary competition, elimination, semifinal, and grand final.
Held in the Auditorium of Universitas Negeri Gorontalo, Gorontalo Mathematics Competition (GMC) significantly attracted the interest of students and teachers.
"I wish, being a participant in this competition brings advantages for me, in particular, contributing to the new lesson and experiences" Galung Saido uttered, a second-year student of Junior High School (SMP) 15 Kota Gorontalo
In contrast to Galung, a student of Santa Maria Junior High School Kota Gorontalo, Violeta Angeline Payitno delivered her motivation to participate in Gorontalo Mathematics Competition. She stated, "I am motivated to take part in this competition because I have a huge interest in math. Therefore, I want to prove to myself and other people that I can win this competition." She stated.
Meanwhile, a different reason for participating in GMC is expressed by M. Rifani Fayza Bahsuan, an Al Ishlah Islamic Junior High School student. She thinks this mathematics competition is excellent for her. "Such a cool event. I can view it from how the committee organized the previous competition. As the representative of Al Ishlah Islamic Junior High School, I do expect I perfectly handle the competition and become the winner." She hoped.
GMC (Gorontalo Mathematics Competition) can be categorized as an excellent student competition. Not only to view students' talent and passion, but their mathematical comprehension is evaluated.
"Gorontalo Mathematics Competition (GMC) does not only help students improve achievement in mathematics, but we also would like to evaluate how far students can master the subject after the Covid-19 pandemic," said the secretary of Mathematics Department, Nursiya Bito, M.Pd on a break of GMC opening ceremony.